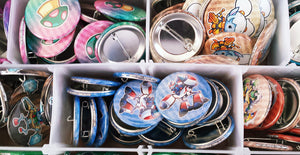 Free Buttons! 50% off! New Product! FREE SHIPPING UPDATE!
LIMITED TIME OFFER:
For the entire month of October, each sale made gets a free button added to their package! If you spend 30 dollars or more, a random die cut sticker will be added to your package as well!
NEW PRODUCT:
Charms: Paladin Chocobo and Summoner Chocobo have been added to the 2" charms section!
Enamel Pins: LIMITED EDITION, LIMITED QUANTITIES of Poropalooza "Nightmare before Christmas" Enamel Pins have been added to the "pins" section! Sally Poro, with chained "stitched" on paw, and Jack Poro, that entirely glows in the dark with 3 different colors! There is VERY few left of each, so get them while you can! THESE ARE VERY SPECIAL, ELABORATE PINS!
Stickers: Lets GO! Eevee and Pikachu 3" stickers have been added to the sticker shop! Select the group, then pick which sticker you want!
50% OFF 1.5" CHARMS:
ALL "OLD" style 1.5" charms are now officially on sale at 50% off (5$) until they are gone for good. Many have VERY limited stock, so get them while you can! ONCE THEY ARE GONE, THEY ARE GONE FOREVER! I am NOT bringing back ANY of the old designs!
FREE SHIPPING UPDATE:
Free shipping on ALL ORDERS over 40$ or more! This has been UPDATED from the 50$ free shipping from before!
-------
Hope you enjoy this store update! Excited for the future, and thank you everyone for your patience as I've been very busy at conventions, a new job, and more! Please message me if you have any questions. Thank you!
---